A The Closer and Major Crimes database that anyone can edit.
---
JOIN US
Anyone is welcome to add to the Wiki. Editors are strongly encouraged to register and develop their user pages. Some features of the wiki are only available to registered editors, such as achievement badges. Find something that interests you, and dive in!
Read the Manual of Style before you begin. This wiki has few rules aside from basic consideration of other editors, but it does have a few editoral guidelines designed to keep articles consistent. The MOS is a work in progress, and will be updated periodically. Watch the News section for update notifications.

What needs doing?
Episode summaries
Episode details
Guest cast in episode articles
Articles on main cast
Articles on main characters and major supporting characters
Red links indicate unwritten articles.
RULES
The Rules of the Major Crimes Division Wiki are simple:
Keep it civil: Do not make personal attacks on other people. If you need to criticize another user's argument, do so without attacking them as a person. Do not use bigoted language, including slurs which degrade another person or group of people based on gender, race, sexual orientation, nationality, religion, etc.
Be a productive member of the wiki: Contribute to the wiki in line with the established processes and conventions. Need help? Ask an administrator! Disrupting the wiki with "edit warring" over differing opinions of a topic with another user or group of users is not productive.
Do not engage in excessive self-promotion: The wiki is a collaborative community resource for the topic at hand. It is NOT a free place to advertise your related website, YouTube channel, blog, social media account, etc. Have a question about whether your link would be welcome? Ask an administrator!
Do not harass other users: If somebody asks you to stop posting certain content on their wall, respect their wishes. It is their wall.
Do follow community guidelines for formatting: When a community has established formatting, it's important to adhere to that, especially when spoiler content is involved.
Remember that the wiki is about the shows, not what happens in real life: Malicious edits to pages relating to the cast or organizations depicted in the shows (The Closer and Major Crimes) will not be tolerated. These include, but are not limited to:

Inserting blatantly false information on articles
Inserting personal beliefs/politics on articles (e.g. bashing the LAPD for events which happen in real life)
NEWS
July 31, 2020 - Soft protections
Because of a recent influx of spammy/malicious edits to the pages relating to the Los Angeles Police Department, I've enabled temporary protections on those pages. The protections block brand new and unregistered users from editing them.
If you'd like to discuss this, please drop a message on my talk page. —MonkGlonk (talk)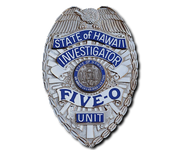 Community content is available under
CC-BY-SA
unless otherwise noted.